Fixing my old iPod Nano
I got caught in a rainstorm many moons ago, during which my 1st Gen. iPod Nano started acting up. I figured it would be fine after it dried out. It turned out not to matter, because the very next day I got lucky. A generous friend, who had originally bought me the iPod as a birthday gift, got an iPhone. She offered me an extended loan of her 3rd Gen Nano, and my iPod sat on the desk for a while. The next time I picked up my old Nano, I realized the rain had done some permanent damage. It would not hold a charge, and it took several minutes after plugging it in before it had enough life for iTunes to even recognize it. I didn't care too much. I was rocking a new 8 gig. A few months ago, I moved out of Boston, and my extended loan ended. I was iPodless.At first, I figured my Android powered G1 would have to suffice. I love my G1 for many reasons, but it's no substitute for an iPod. For one, it lacks a 3.5mm headphone jack, requiring an annoying adapter. Also, the iPod click wheel is a dream for navigating your music library. Lastly, you can't beat the "plug in-load songs-go" nature of the iPod. At this point, I'm pretty deep into the world of iTunes, and I'm just used to it. I contemplated buying a shiny, colorful 5th Gen. iPod, but the unemployed can only dream of such things. I decided to crack open the old Nano and see what was what. Was it just the battery, or was something deeper and irreparably wrong?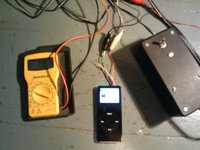 External PowerI removed the battery, and soldered on some test leads (see above photo). I was able to get the iPod to come to life with an adjustable bench power supply. While externally powered, I ran the internal diagnostic tests:
Press and hold the center and menu buttons to reboot.
When the apple icon appears, press and hold the center and left buttons.
These all came out OK. After enough poking around with a multimeter, I concluded that the battery was indeed the culprit. I worried that it could be some internal charging circuit issue, rendering even a new battery un-chargable. I ruled this out, as the battery has it's own circuitry likely housing the battery management functions.
Battery KitI picked up a new battery from Powerbook Medic (they are, I think, the best source for replacement parts for Apple gear, necessary tools, and they have free take apart guides). It is labeled an "extended life" battery, so in theory it will out perform the original. The kit was $10, and included 2 pry tools to open the case without gouging it. It requires some delicate wire work and steady handed soldering. The wires are about 28-30 gauge, and the terminals are close together. You'll want a fine pointed soldering tip, and keep the iron just hot enough to meld solder, no hotter. You don't want to successfully replace the battery, while simultaneously cooking an irreplaceable surface mount component.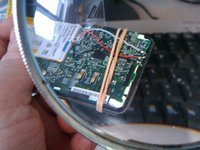 Helping BandsRemember to pre-tin the wires and pads. My helping hands device was threatening to chew through the delicate wires, so I used a rubber band to hold them in place during soldering. As always, use as little solder as possible. Too much will spill to other pads or components, or prove to bulky to get the bottom case back on cleanly. Use a magnifier and light source to check your solder joints. You want shiny balls of solder. Dull joints, called cold solder joints, are weak. Turn up your iron, or hold it on the joint a little longer to get a better joint. You can also (and probably should) use flux. I did not in this instance.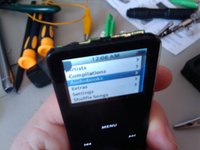 DiscoIn the end, it booted up even without an initial charging. It charged fine and all diagnostics ran successfully. As you can see in the last photo, I still need to replace the LCD screen to fix the dead upper left pixels. Someday.